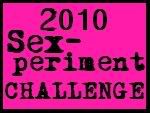 It has come to my attention that Ed Young, Jr. has reclaimed his "Sexperiment" from years ago. He wrote a book. He's pimping the heck out of it. So, to call February the "Sexperiment" may lead people to believe that I'm aligning myself with he and his products (and by "products," I mean books and Bible studies, not lube and toys).
I kept the name as a gentle mockery of the fact that Michael and I totally out-bumped-uglies against the Youngs that first year. That was the fun of it for me. Now ... not so much.
We are going to rename it. It belongs to all of us. We're taking it back. Lube talk and all!
I began a little discussion on FaceBook about some possibilities. Missy Salyers had us all with "Sexruary."
I'm going to shorten it to "Sexuary," just so no one actually tries to throw in the "r" - not to mention, it sounds like a full combination of "February," "sex," and "sanctuary."
Yes, please!
I'm currently accepting submissions for artwork. If you love to design, and would like to have your work emblazoned on my nasty, sex-it-up month for 2012, this is right up your alley. Each time it is used, I will give you credit and link to your website.
Shoot your submissions to christinemoers@hotmail.com. I will choose my favorite and unveil it by February 1st. And then ... off to the
races
bedrooms!